This Is Primarily Very Important That You Choose the Relevant Embassy of a Schengen State to Begin Your Application Process. Applicants need to apply at the Embassy/consulate of the Nation, Where You Stay Longer. Our Team Assists You to Get Express Appointment and Visa Documentation Guidance That Leads Your Application Towards Approved French Schengen Visa.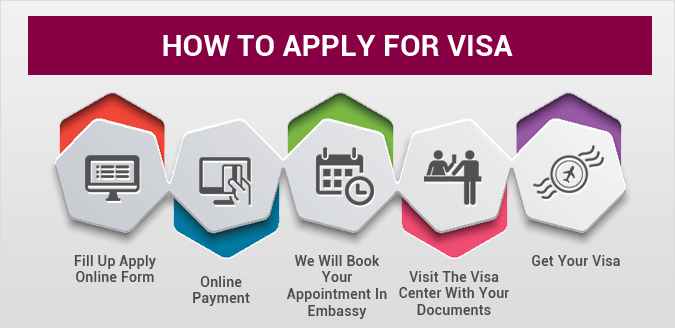 How Can You Start This Process?
Applicant Needs to Fill Up Online Form to Get Appointment Online. Once We Receive Your Application Online Then Appointment Date Will Be Allotted After Discussing With You or at a Later Date Depending Upon Availability of the Time Slots of Interview.
The Date and Time of Interview Will Be E-mail to You on Your Registered Email. In Case of Express Appointment We Can Get You Appointment in Very Short Notice Like Next Day Appointment However Interview Slots Are Based on First Come First Basis.
All Visa Applicants, Who Are Going for Interview and Bio Metrics Process at Visa Center, Must Carry All the Documents as Per Guidance Provided in Email Sent From Our Team.
Minor Applicants Need Not to Attend Interview to Submit Their Application if They Are Below 6 Years.
Minor Applicants (6-12 Year) Must Come With Parents, Guardian, or Attendant at Visa Center to Submit Their Application.
You are requested to Apply Minimum of 15 Days in Advance for Schengen Visa. French Schengen Visa Is Issued Normally in 7-10 Days Time but for Some Nationalities Processing Time Is 2 Weeks You Can Contact Us for That List of Countries.
Documentation Requirement for Multiple Schengen Visa:
Common Document List
Specific Documents List
Supportive Documents List
Common Document List:
Application Form
Photo
UK Visa
Bank Statement
Flight Booking
Hotel Booking
Travel Insurance
Specific Documents List:
Employed, Unemployed, Self-employed
Student (Single, Married)
Spouse of UK/EU/EEA National (Employed Unemployed, Self-employed)
Unmarried Partner
Civil Partnership
Supportive Documents List:
Specific Documents Are Request by French Embassy Sometimes That Is Also Depends Upon Your Criteria You Need to Contact Us Then Our Team Will Guide You Accordingly.
Click on "Apply Online" to Fill Up Your Details. In Case You Are Having Any Trouble to Fill up Form Online Then Contact Us Here or call our visa expert at 020 84323472 or email us at info@findvisas.com
France Visa Fees From UK:
| | | | | |
| --- | --- | --- | --- | --- |
| Visa Types | Consulate Fee | Consulate Service Charges | Our Handling Charges | Total |
| Tourist Visa – Single/Multiple Entry | £54 | £26 | £49 | £129 |
| Transit Visa –Single Entry | £54 | £26 | £49 | £129 |
| Business Visa – Single/Multiple Entry | £54 | £26 | £49 | £129 |
| For British / EU Spouse | Nill | £26 | £49 | £75 |
The Countries Whose Nationality's Takes Up To 16 Day To Process Their France Visa.
Countries Are Listed In The Following Section:
| | | | | |
| --- | --- | --- | --- | --- |
| Afghanistan | Colombia | Kuwait | Oman | Somalia |
| Algeria | Congo (Zaire) | North Korea | Pakistan | Sudan |
| Bangladesh | Egypt | Lebanon | Palestine | Surnam |
| Belarussian | Indonesia | Libya | Philippines | Syria |
| Belize | Iran | Myanmar | Qatar | Vietnam |
| Burma | Iraq | Nigeria | Rwanda | Yemen |
| Burundi | Jordan | Niger | Saudi Arabia | Zimbabwe |
UK Visa Requirements For Schengen Visa:
Your Passport and UK Visa/resident Permit Must Have at Least 3 Months Validity on Your Date of Return from Your Trip in Order to Apply Your Visa Application. Also You Should Not Be on UK Visit Visa (Type C). French Embassy Does Not Issue Any Kind of Visa to the Foreign Nationals Who Are Holding UK Visit Visa (Type C).
A Multi-Entry Schengen Visa:
This Type of Visa Enables You to Travel Almost Any Schengen Country Multiple Times. You Can Visit More Than One Country in One Trip or You Can Come to UK After Fist Trip Then Visit to Other Schengen Country in Next Trip.
Special Notes – Appointment Date Next Day or Available on Request. Visa Processing Time 03 Days. Visa Validity Decided by the Embassy Generally 1 Month – 1 Year Nationals (Even Though Spouse of British/EU National) From the Following Countries Takes Up to 16 Days to Get Their French Schengen Visa Applications Processed: for All Other Nationalities We Can Do the Visa Processing in 3- 4 Days After We Receive the Documents Based on Our Slots.
France Visa FAQ
Q. How To Apply?

A. You Need Apply Online. We Will Fix and Appointment for You in the Embassy. You Must Visit the Embassy in Person to Submit Your Application. You Can Request for Appointment Here in Our Website.

Q. Can I Apply Online Without Visiting In Person?

A. No You Must Come in Person to Submit Your Application on the Given Appointment Date.
Why Choose Findvisas.com?
We Will Fix Your Bio Metric Appointment at Visa Center.
We Will Guide You for List of Required Documents.
Visit the Visa Center and Submit Your Docs.
Get Your Approved Visa.
Note: Other Then These It Takes 5-7 Working Days Time. Duration Is Decided By The Embassy Only.
More Visas