GERMANY VISA
German Visa Application Procedure: All applicants need to apply in person at the German Visa Center with their application form and relevant documents. Visa appointment will be provided as per your preferred dates.
How To Apply German Schengen Visa
You need to send us appointment booking form – Download Here
You need to visit visa center with your documents
You will get your visa as per your nationality status by post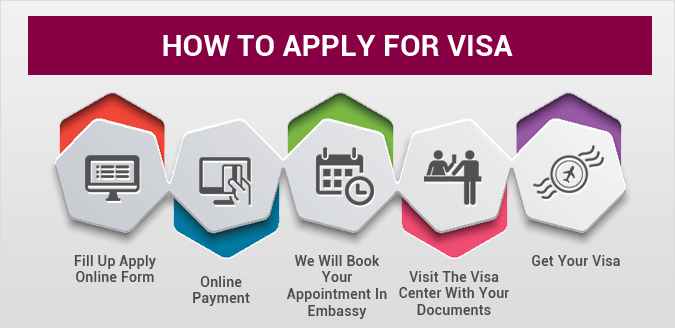 Documents Required For German Visa
(1)General Requirements:-
Please Note: That all decisions regarding the issuance of, duration and number of entries regarding the visa are at the sole discretion of the German Embassy.
Photograph: One passport size loose picture.
Passport with 3 months validity from the returning date to UK and if you have old passport then bring that as well with photocopies. Proof of "regular situation" in case of being from a country other than the one where the visa is solicited.
Application Form
Travel Proof: Flight reservation of return tickets and tickets must state the names of all applicants who are travelling.
Hotel Reservation: Confirm hotel reservation proof from hotel and if sponsoring by someone in Germany then you can contact us we will tell you special requirements for that.
Letter From Employer For Employed: Also provide last 3 months pay slips.
Bank Statements: For last 3 months this should have details like: your name, address and credit of £50 per day of stay. Printouts from internet banking are also accepted. If you cannot provide a bank statement then- You should provide EURO travelers cheques with the value of €60 per day for your trip.
Travel Medical Insurance: (minimum coverage of 30.000 Euros to cover any expenses which might arise in connection with repatriation for medical reasons, urgent medical attention and/or emergency hospital care or death, during the stay(s) on the territory of the Member States). If insurance is provided with your bank account then a original letter from your bank confirming this and should not be older than 1 month.
Travel Authorization for minors or court decision (when applicable)
(2) Specific Requirements:-
For Applicants Who Are Supported By A Spouse: A letter of support from the spouse stating who is paying for the trip; original spouse's passport and original marriage certificate, spouse's employment letter or 3 pay slips and bank statement of spouse.Documents not in English/German have to be translated and translation should be certified from the respective consulate in London to legalize the document.
For Self-employed: A letter (no older than 3 months) from an accountant or a solicitor.
For Students: A letter from your College/University confirming attendance. This letter must not be older than 1 month, on headed paper; stating name and dates of your course, confirming attendance, this letter should also state your dates of travel.
If Your UK Visa Is 'Dependent' (Tier 1 Dependant etc): original passport of the person your UK Visa depends on plus original proof of relationship (marriage/birth certificate etc). This is required even if you have your own job and/or do not depend financially (your UK visa 'depends').
For Spouse Of UK/EU Nationals:
Passport with 3 months validity from the returning date to UK and if you have old passport then bring that as well with photocopies.
Passport of spouse with 3 months validity from the returning date to UK and if you have old passport then bring that as well with photocopies.
One passport size loose picture.
Application Form
Marriage Certificate: In English language
You can contact us on 02084323472 or send us an email – info@findvisas.com
German Visa Fees:
| | | | |
| --- | --- | --- | --- |
| German Tourist Visa | Official Embassy Fee | Our Service Fee (If You Choose To Apply Through Us) | Total All Fees |
| Tourist visa – Single/Multiple Entry | £74 | £49 | £123 |
| For British / EU Spouse | £23 | £49 | £72 |
Processing Time: 3 Weeks For The Following Nationals:
| | | | |
| --- | --- | --- | --- |
| Afghanistan | Algeria | Bangladesh | Bahrain |
| Belarus | Burundi | Congo | Egypt |
| Indonesia | Iran | Iraq | Jordan |
| Lebanon | Libya | Kazakhstan (Diplomatic Passport Only) | Kuwait |
| Mauritania | Morocco | Nigeria | North Korea |
| Oman | Qatar | Pakistan | Palestine |
| Philippines | Rwanda | Saudi Arabia | Somalia |
| Sudan | South Sudan | Syria | Tunisia |
| United Arab Emirates (UAE) | Uzbekistan | Vietnam | Yemen |
German Visa FAQ
Q. How To Apply?

A. You Need Apply Online. We Will Fix and Appointment for You in the Embassy. You Must Visit the Embassy in Person to Submit Your Application. You Can Request for Appointment Here in Our Website.

Q. Can I Apply Online Without Visiting In Person?

A. No You Must Come in Person to Submit Your Application on the Given Appointment Date.
Why Choose Findvisas.com?
We Will Fix Your Bio Metric Appointment at Visa Center.
We Will Guide You for List of Required Documents.
Visit the Visa Center and Submit Your Docs.
Get Your Approved Visa.
Note: Other Then These It Takes 5-7 Working Days Time. Duration Is Decided By The Embassy Only.
More Visas